Neuropsychiatry Franchise In Himachal Pradesh- Somacare, is one of the most trusted companies for Neuropsychiatric medicines. It works to bring a better tomorrow for the people suffering from mental problems.  It focuses on making effective medicines at consumer-friendly prices. With empowering the pharma world with monopoly rights, marketing strategies and other benefits; Somacare, with its Neuropsychiatry Franchise In Himachal Pradesh is ready to offer people with its high-quality medicines and is opening various business opportunities for them to establish themselves in the world of pharmaceuticals.
Somacare is an ISO certified company and has become common to the knowledge of the people in the market. The company deals in the manufacturing, supply, trading, marketing, and third-party manufacturing and followed a vertical-process of planning which is backed by experienced professionals.  With its Neuropsychiatric Franchise in Himachal Pradesh, it is coming to a step closer to achieve its dream of providing healthcare regarding mental illness in a country like India where it is considered as a taboo.
To get any further information regarding the franchise, contact us on +919875921201 or visit us at info@somacare.in.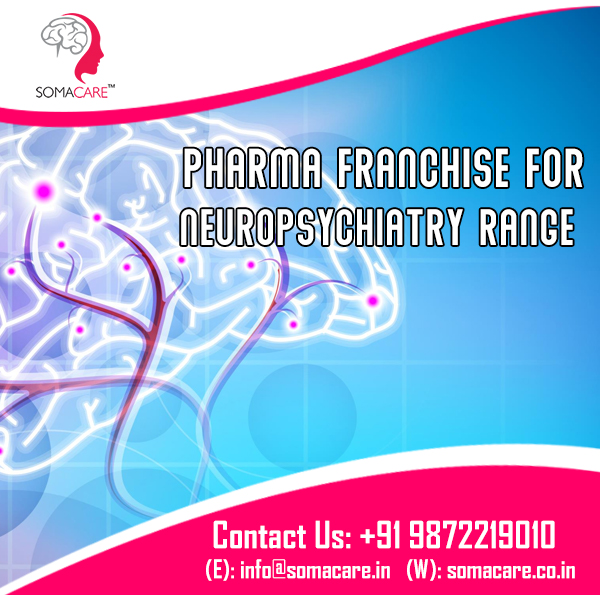 What are The Different Products That Are Available At Somacare?
With the help of innovation and experimentation, Somacare has made it sure to bring various kinds of medicines in the market to treat mental sickness. These products are divided into various categories. These categories are:
Psychosis
Depression
Schizophrenia
Eating disorder
Neurotic disorders
Visual hallucination
Degenerative diseases
Auditory hallucination
Mania or Bipolar disorder
Obsessive-compulsive disorder
All the products that are made by us are highly efficient and have received a great response from the market. From collecting their raw material to their manufacturing and packaging, all are under the supervision of experienced professionals. We offer products covering different disorders. Some of our neuropsychiatric franchises are listed below:
Therefore, by providing these many products in various franchises, we ensure our availability in the market. Hence, doing business with us is of great opportunity for you.
How is Somacare Dominating the Pharmaceutical Market?
With an efficacious and fruitful response from the market, Somacare has decided to open its Neuropsychiatry Franchise in Himachal Pradesh having a population of 68.6 lakh. This serves as an advantage for us. Therefore, we invite all traders, distributors and pharmaceutical industry representatives from across India to become our franchise partner with unique monopoly rights. We're looking for distributors from all Himachal Pradesh's cities for Neuropsychiatry Franchise Company In Himachal Pradesh.
Una
Manali
Shimla
Dharamshala
Kasauli
Kullu
Dalhousie
Sundarnagar
Palampur
Paonta Sahib
Baddi
Kangra
All these places have a compendious scope for the development of our franchises.  We are looking forward to work with you all.
Why Settle On Somacare For HP Neuropsychiatry Franchise?
Various factors have helped Somacare to over-power the world of pharmaceuticals. Those factors are:
All the units in our company are certified and are set according to the standards and guidelines set by WHO-GMP.
We have our Business ethical policies and in no case, these policies get compromised.
Hygienic conditions are maintained.
Knowledge and experience go hand in hand.
All the products get tested by professionals at our laboratories.
We focus on making quality products that are effective, efficient and are easily available.
Therefore, with all these qualities we plan on bringing a brighter future for ourselves and the people of PAN India.
How Neuro Franchise Business Beneficial for you?
We are not only planning to establish our business nation-wide but also to take ourselves with you. Though the pharma sector is a growing sector, coming into the franchise business also has certain benefits for you. Those are:
You are your boss.
A variety of medicines, tablets, and drugs are provided to you.
Free promotional support.
Post-GST, this sector has flourished a lot.
It doesn't require a huge investment.
A business near your home.
Monopoly rights.
Hygienic and WHO-GMP approved units.
Offers and discounts on various products are always available.
Therefore, you'll be able to profit mankind as well as profit yourself. This is a great business opportunity for all those people who are looking forward to getting started in the franchise business. We are willing to help people with just one motive of ours, i.e. to provide healthcare to all the people over PAN India. We are ready to provide our full support and in return, we only ask for transparency and reliability.
Contact Us
Name: Somacare
Address: SCF No. 246, Motor Market, Manimajra, Chandigarh, India, 160101
Email ID- info@somacare.in
Phone Number: 919875921201