Neuropsychiatry Medicine Manufacturer in India– Somacare is the top leading Neuropsychiatry Pharma Company in the pharmaceutical sector. With the help of professionals, quality analyst, and reliable marketing techniques, we can provide healthcare to all those who require medicines for their mental illness. In a country like India, where mental disorders are not accepted, our Neuropsychiatry Medicine Manufacturer Company in India is here to support and supply our best medicines to them.
We are an ISO certified company and every-day we strive to prove ourselves as the best by breaking all grounds. At Somacare, innovation, experience, and experimentation never stop. We emancipate to make the best quality products and provide a variety of them under one roof. Our focus on providing the best healthcare by inventing new effective and efficient medicines at consumer-friendly prices. Our Neuropsychiatry Medicine Manufacturer Company is set according to the standards and guidelines of WHO-GMP. Therefore, we stand as a trusted brand with our business partners and support and guide them at every step.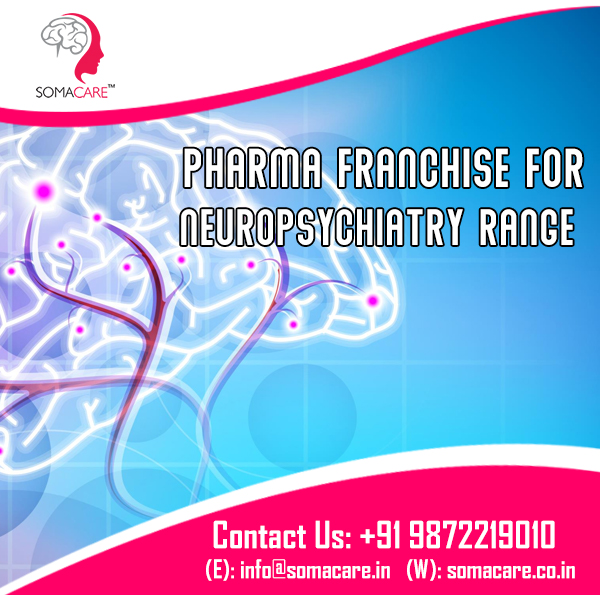 To contact us call on +919875921201 or reach us at info@somacare.in. We are always delighted to provide you our valuable assistance.
Miscellanies at Somacare
We believe in providing a huge variety of products that are effective and efficient and at pocket-friendly prices. These varieties are divided into different categories. These categories are:
Anti Depressants
Anti Epileptic
Anti Psychotics
Anti-Addiction
Antispasmodic
Anxiolytics Medicines
We provide more than 80+ products in the market to various authorized dealers. Our products are not only recommended by physicians only, but by the patients as well.
Numero Uno Neuropsychiatry Medicine Manufacturing Company
To stand out the rest in a particular sector is a difficult task. Everybody is fighting to be the supreme. But we let our products speak for ourselves. We get our distinctive quality because of the following reasons:
Experience
Knowledge
Experimentation
These three factors guide us on our journey to become the best Neuropsychiatry Company in the pharma world and spread our branches all over PAN India.
Quality as The Hallmark at Somacare
The peculiar factor about us is the standard of quality of our products. We ensure our customers to provide the best range of products in the Neuropsychiatry range. For doing this, we need to take certain measures. Those measures are:
No compromise is made with the quality of the products.
Extreme quality checks are done in the inbuilt laboratories at our company only.
Professionals are appointed by us who heads the specific divisions and supervises all the actions.
R&D department is continuously working for the innovation and invention of new products that'll help the people suffering from mental disorders.
Manufacturing Barometer of Neuropsychiatry Medicine Manufacturer in India
How the products are manufactured stands as a predominant factor for the company. This is because advance manufacturing provides a better condition for the production of the products and simultaneously increases the market value of it. Our manufacturing unit does not consist only of machinery but also of the human brain which comes up with the latest techniques and disrupted ideas. We can do this by taking the following measures:
Hygienic conditions are maintained by the company.
The latest high-tech machinery is being used to fasten the process of the number of articles produced.
Experienced staff is appointed to work under the supervisors.
Attractive packaging, shelf-life is well-taken care off by the Warehouse and Packaging Unit.
R&D Departments are working round the clock to come up with new products to provide revolutionary healthcare to the people suffering from mental disorders.
All the management plants and state-of-art infrastructure is made according to the guidelines by WHO-GMP.
On time delivery is assured by us.
Secured-shipping.
Therefore, we put in our best efforts to prove ourselves every-day and to stand out from the crowd by following these measures daily.
 Our Pharma Company Plans to Cover a Wide Horizon in the Pharma World
People can our physical suffering but nobody can see our mental pain. We cannot even put that into words. But we, at Somacare understand you completely and there are present to support you through thick and thin. The psychiatric disorder can be caused due to Heredity or genetics which is keep on passing to the next generations, infections, any brain injury or any kind of depression or paranoia. Our Neuropsychiatry Range of medicines is here to help you deal with these disorders in a much comforting way.
We at Somacare are backed up with the most experienced professionals and the latest high-tech machinery to produce quality products at an affordable market price. Our motive is to provide the best healthcare to the people suffering from mental disorders and till our last breath; we'll be working on it.
Contact Us
Name: Somacare
Address: SCF No. 246, Motor Market, Manimajra, Chandigarh, India, 160101
Email ID- info@somacare.in
Phone Number: 919875921201