Neuropsychiatry PCD Franchise in Bangalore- Somacare was incorporated in the year 2017 and since then it is working to provide the best range of Neuropsychiatry medicines in the market which is preferred by both, the physicians as well as the patients. In a country like India, where problems related to mental disorder isn't accepted by the people, we endeavor to make the best use of our resources, research, and innovation to make the best effective products for the people. With the help of the professionals and the latest high-tech machinery, our Neuropsychiatry PCDFranchise in Bangalore is here to provide high-quality medicines to the people of Bangalore and build their empire in the world of pharmaceuticals.
We are an ISO certified company having a state-of-art infrastructure facility that is set according to the standards and guidelines by WHO-GMP. With our Business Ethical Policy, we are able to come in business with 90+ happy and satisfied clients. But we don't stop here. We aspire to become a prominent name in the pharmaceutical business. hence, starting a Neuropsychiatry PCD Franchise in Bangalore is one such initiative.
To get any further information regarding the franchise, contact us on +919875921201 or visit us at info@somacare.in.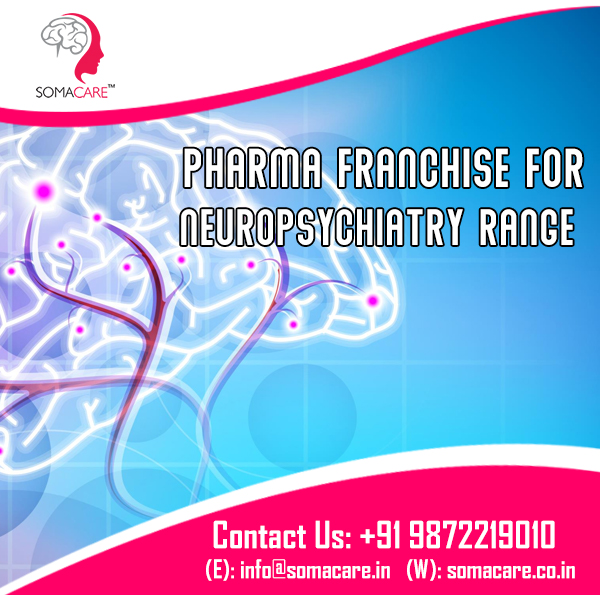 Is Our Neuropsychiatry PCD Franchise in Bangalore Genuine And Authentic?
Somacare, since established has worked-hard every-day, scrutinizing ways to make itself better and be able to produce high-quality products for the people suffering from mental disorders.  Various parameters are set that assists us to be better and prove ourselves. those parameters are:
Professionals supervise all the tasks.
Experienced and trained staff.
Best use of high-tech machinery and technology.
No compromise is made with quality.
Hygienic conditions are well-maintained.
Manufacturing units and Infrastructure are according to the plans of WHO-GMP.
R&D department is in continuous search of new effective products.
Storage, attractive packaging and shelf-life are taken into proper consideration.
On time delivery is assured by us.
For us, our business partners and their trust are the most valuable possessions. We believe in maintaining full transparency with them. Therefore, choosing us as your partners will be the best decision you'll ever make.
Product Portfolio At Neuropsychiatry Franchise In Bangalore
From the past two years, we serve 90+ clients with our 70+ products. These products include Neuro Medicines like Antidepressants, Antipsychotics, Anxiolytics and hypnotics, Mood stabilizers, Stimulants, etc. These medicines are effective on a disease like Schizophrenia, Depression, Bipolar Disorder, Obsessive Compulsive Disorder, Anxiety Disorder, Psychotic Disorders, G.l. Disorders, etc.
How Does Neuropsychiatry Pharma Franchise Provide Social Security?
Our Neuropsychiatry Franchise in Bangalore is not only helping you to set a foot in the pharma business but also serves you with various benefits that will ease your journey. These benefits  are:
Getting free promotional support.
You are your own boss.
A huge variety of medicines, tablets, and drugs are provided under one roof.
It doesn't require much investment.
This business assures 100% success rates.
You'll be closer to your home.
 Starting up a business requires a huge amount of money but at our franchise, this will also lower the cost of initiating a business for you.
Monopoly rights are reserved.
After GST, this business has become a lot profitable.
Offers and discounts on various products are given by the company to the dealers.
Why is Bangalore Suitable For Such Business?
Bangalore has a population of 84.3 lakh. Therefore, because of the population, there is a great need for medicines by the public. Few reports further noted that professionals from the pharma and healthcare industries in Bangalore are paid the highest in India with an average annual CTC of Rs 9.6 lakh across all levels and functions. It will increase the employment ratio, and will also give them the highest incentives. Not only this, but Bangalore has a thriving environment for innovation and start-up with various supportive policies of the State Government. The presence of several advanced Research and Development (R&D) Centres, exclusive pharma SEZ, and pharma industrial zones within the city will also be advantageous for our Neuropsychiatric Franchise in Bangalore. The availability of natural resources and skilled manpower adds up to be another positive point for you to join our business.
 Establish Your Venture With Our Neuro Franchise
While starting any business, we always see the pros and cons. we make our best efforts to help you to set your foot in this business by:
It is a one stop solution for the PCD / Franchise / Pharma Marketing Entrepreneurs.
Latest DCGI Approved Molecules.
Competitive Rates, Attractive Packing of all the products.
 Product manual, Product information updates to keep its associates (Franchise)
We keep an eye on the market and what products are being launched.
Customization of prices as required for bulk purchases.
Business Ethical Policies.
Order Execution in 24 Hours.
Monthly Incentives are given
Contact
Name: Somacare
Address: SCF No. 246, Motor Market, Manimajra, Chandigarh, India, 160101
Email ID- info@somacare.in
Phone Number: 919875921201