Neuropsychiatry Pharma Franchise in Rajasthan- Somacare has been working on treating various mental illnesses such as depression and stress. Bipolar disorder, brain tumours, and so on. Neuropsychiatry Pharma Franchise in Rajasthan is helping people overcome these problems by offering a wide variety of neuro drugs. We have studied emerging mental illnesses as a top neuro franchise company with ISO certification. Our company is offering franchise business with full monopoly rights as well as promotional tools to promote the company.
We discovered that our country needs the best neuro care treatment for that it needs quality neuro medicines.  And there are only a few companies that are taking on the burden of treating different psychiatric illnesses by supplying people with high-quality medications. As the best pharma firm, we are also contributing to the country's health sector and are now providing quality products through Neuropsychiatry Pharma Franchise in Rajasthan. We are offering this amazing opportunity to those who are seeking their career in a specific field and become successful entrepreneur in the market.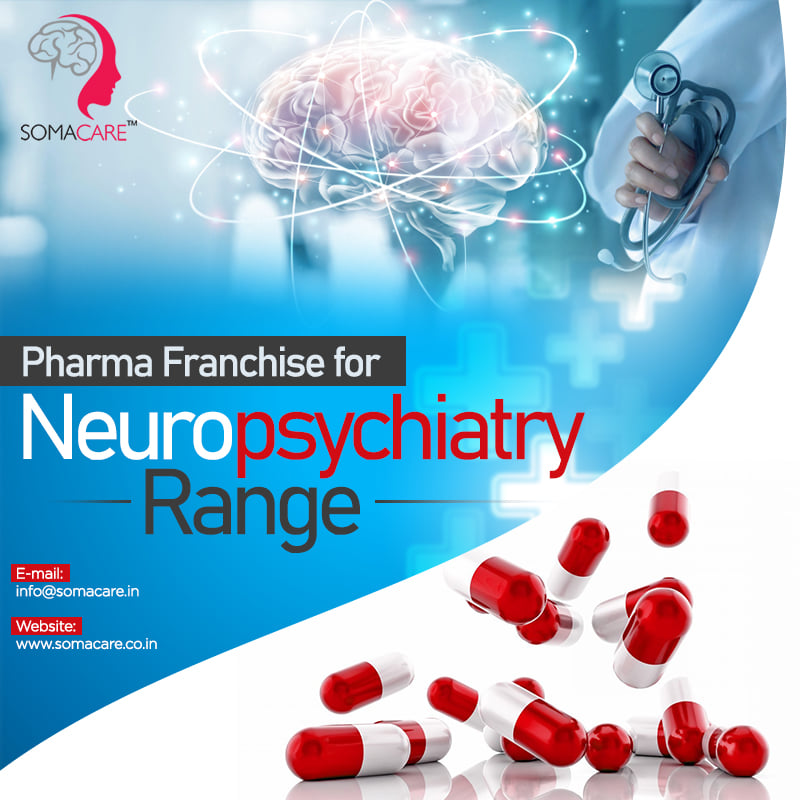 If you are also looking for Neuro Franchise Business in Rajasthan then call us at  +91-9872219010. You can also leave us a query on info@somacare.in.
Best Neuropsychiatry Pharma Company In Rajasthan
Somacare is one of the fastest-growing organizations with experience in dealing with neurological disorders. The company is well-known for its high-quality products and is on its way to great success in the industry. We have reached several achievements as a result of our studies on various neuro disorders and contributions to their cure. If we discuss any of the values that our company possesses, we will move on to our employees who are dedicatedly working with us for a long time. The staff is well-qualified and have long experience in the pharma line. Apart from this, here are some more features of our company which make us the best Neuropsychiatry Pharma company.
We maintain the quality of the product by following the norms set by Goods Manufacturing Practice.
We use the latest devices in the manufacturing of the products and that are operated by our expert team.
The company has a well-trained R&D team, which work on innovating the new compositions as per the demand in the market.
Our transportation department values the time of our client and always deliver the order in a given time.
100% Quality Assured Neuro Products
Somacare is entirely focused on improving the product's efficacy in order to treat emerging neuro issues. We offer a wide variety of DCGI and FSSAI-approved neuropsychiatry products. We set each product's price to be very fair so that every form of company can afford it. We make the product in a systematic production line, with our drug inspector who is coordinating the compositions at each stage. Our development team is highly skilled and places a premium on producing high-quality goods. We have goods that are WHO and GMP certified.
Here are our neuropsychiatry product range
Tablets
Amisulpride 50mg – Amizil – 50
Citicet Forte – Citicholine 500mg + Piracetam 800mg
Buprax 150 SR – Bupropion 150mg SR
Liquids
Almacid – Dried Aluminium (OH) + Magnesium Hydroxide (OH) + Simethicone
Apicare – Cyproheptadine 2mg + Tricholine Citrate 275mg / 5ml
Brentax – Piracetam 500mg / 5ml
Capsules
Flupart – 100 – Fluperitine Maleate 100mg
Loxacare 10 – Loxapin 10mg
Nervilite – P – Methylcobalamin 1500mcg +Pregabalin 75mg SR
Collaborate With Us To Get Lucrative Services
The company has reached out to different parts of the country with our high-quality neuro products, acquainting people with the product's quality. It will only be possible with the cooperation of our esteemed clients who use our medications in their respective areas. We focus not only on producing high-quality products but also on understanding our customers' needs and meeting their specific requirements. We leave no stone unturned in our efforts to please our clients and provide them with completely transparent services. It also helps us develop our client base as our affiliated partners refer their contacts to us.
These are some of our fruitful services
We offer attractive incentives to our clients which works like motivation and boost their enthusiasm.
Our promotional tools such as brand name labelled pen, notepad, pamphlet, marketing beg works like helping hand to client's business.
The visual aid which we give to our clients consists of all descriptions of the products along with attractive graphics.
Our customer care representatives are always ready to help and guide our clients.
Monopoly Based Franchise For Neuropsychiatry Range
Our company always helps our clients, and as of now, we are providing monopoly-based franchises to our business partners. As a result, we do not want our client to face any stiff competition in the industry. In other words, we do not sell our goods or distribute franchises in areas where we already have a relationship with a partner. We have researched various areas of Rajasthan and we got to see there any people who are suffering from several neuro issues. Therefore, we are delivering our neuro products in this state by offering people with Neuropsychiatry Pharma Franchise in Rajasthan.
Highlighted areas of Rajasthan 
Jaipur 
Alwar
Jhunjhunu
Sikar
Dausa
Ajmer
Bhilwara
Nagaur
Sawai Madhopur
Jodhpur
Udaipur
Bikaner 
Pushkar
Now, it is time to come ahead, join our venture and walk with us on a path of curing neuro issues of our society as well as earn good returns.
Contact us:
Name- Somacare
Address- SCF No.246, Motor Market, Manimajra, Chandigarh, India, 160101
Contact Number- +919872219010
Email- info@somacare.in