Neuropsychiatry Pharma Franchise in Uttar Pradesh– Psychiatric disorder is a behavioral disorder that causes significant distress or impairment of personal functioning. Day by day Psychiatric disorders are increasing fast in the lives of the people by taking a lot of stress and negativity due to which builds neuropsychiatric disorder and people are unable to stay a healthy life. Neuropsychiatry medicines are highly demanded in the market as the duration to take neuropsychiatry medicines is long. To deal with neuro disorders, Somacare Pharma Franchise has taken the initiative. Somacare is the best Neuropsychiatry Pharma Franchise in Uttar Pradesh that you can trust to provide the best Pharma products.
Somacare is all set to deliver high-quality products in Uttar Pradesh as there is a large population. Uttar Pradesh continues to face challenges in terms of healthcare development for the masses. With rich expertise, Somacare is a reputed service provider of pharmaceutical products and becomes the top Neuropsychiatry pharma franchise in Uttar Pradesh. We commit to providing higher standards of health under the guidance of professionals. Our skills, knowledge and innovative ideas have enabled to gain immense appreciation from clients across India. We provide an ethical and professional PCD pharma franchise model to give healthcare services in India.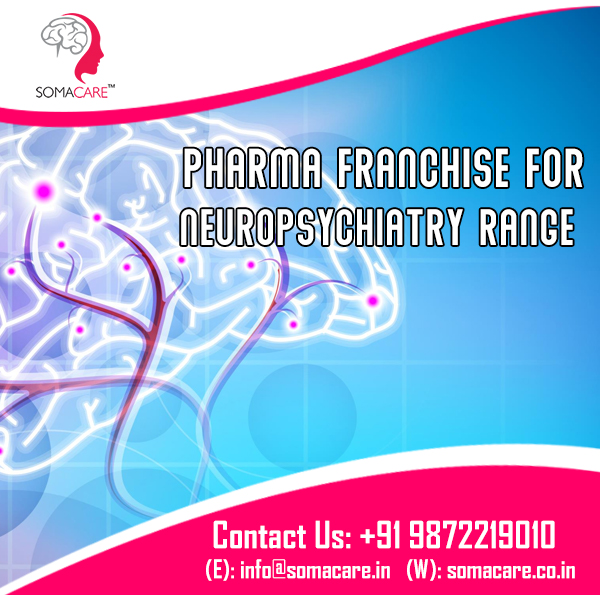 Neuropsychiatry PCD pharma franchise is very popular nowadays. The business offers good returns and leads to earning good profits. To know more about latest franchise deals directly call us at +91-9875921201 or send us an email by writing your query at info@soacare.in
Most prominent Neuropsychiatry Pharma company "Somacare"
Somacare is unfolding as a top neuro pharma company in India which is a big service provider neuropsychiatric products. A large number of distributors and customers are connected with Somacare. This top leading neuro pharma company in India is performing a critical role to boost the growth of neuro care manufacturing companies in India. The involvement and expansion of the PCD pharma franchise are taking place slowly.
Our company also believes in nurturing the customers associated with our organization. By following the constant theory for improving the quality of neuro products, we are serving the people who are ill. With our enormous amount of experience as a third party Pharma manufacturing, none of our clients is disappointed by us, as we deliver products according to their needs.
Points to keep in mind while choosing best Neuropsychiatry PCD Pharma Franchise
Somacare is the leading name in delivering the neuro product in the pharma sector. The neuropsychiatric drug market is increasing rapidly. The value of the Neuropsychiatric drug market is multifold expanding with time. Our company has maintained good connections with doctors, hospitals and associates in the pharmaceutical industry by working and delivering the best from the past few years. We are one of the reliable pharma franchise company in Uttar Pradesh.
Here are some points that help you to choose best Neuropsychiatry pharma franchise to have a look at these:
Quality, variety, and range of product material.
Product accessibility
Rich experience
Profitable organization
Spacious warehouse
WHO, ISO certified
Existing market presence of that organization
Promotional tools
Marketing strategies
These are the mentioned benefits that help pharma franchise partners to do well in the industry. Start your business and earn good profits. Our company assures us to provide you the best world-class service.
Quality Approach for Neuropsychiatric medicine range
Being an ISO certified company, our company adopts a stringent quality control process, which ensures superior quality of drugs. We ensure the finest quality are offered to our clients at market leading prices. By progressive technology and innovative professionals, Somacare is able to cater to the requirements of patrons and ensure to complete tasks timely. We assure you to produce a large number of products and to deliver orders on time. Go through the lists of quality parameters:
Highly effective
Purity
Products are manufactured by quality raw material
Products are passed through quality testing sessions
Improvement in technology
Customers will get 100% availability of stock
GMP-WHO units help us to embrace world-class manufacturing facilities
Improvement in manufacturing skills
Benefits of associating with PCD pharma franchise company
Somacare is a leading player in the Neuropsychiatry PCD pharma franchise in Uttar Pradesh. We are considered as one of the trusted pharmaceutical company for a franchise business. We provide services to patients who are suffering from depression, anxiety, and mental disorders. The company supports in the best possible way to achieve great success. You can trust us in terms of purity, durability, efficacy, and quality. We give you monopoly rights to showcase their product in the market. Our franchise company offers shared benefits for both the company and the associated business partners. By being PCD pharma franchise owner you will get the following benefits:
Get a good share of profit margin.
Reasonable pricing
No fixed target for sales
Better incentive schemes.
Profession support for better scope opportunities in the market.
Minimum risk involvement
Business planning as per the cost available.
It provides an opportunity to work near your home.
Contact us
Name: Somacare
Address: SCF No. 246, Motor Market, Manimajra, Chandigarh, India, 160101
Email ID- info@somacare.in
Phone Number: 919875921201